Xiaomi launched CyberOne Humanoid Robot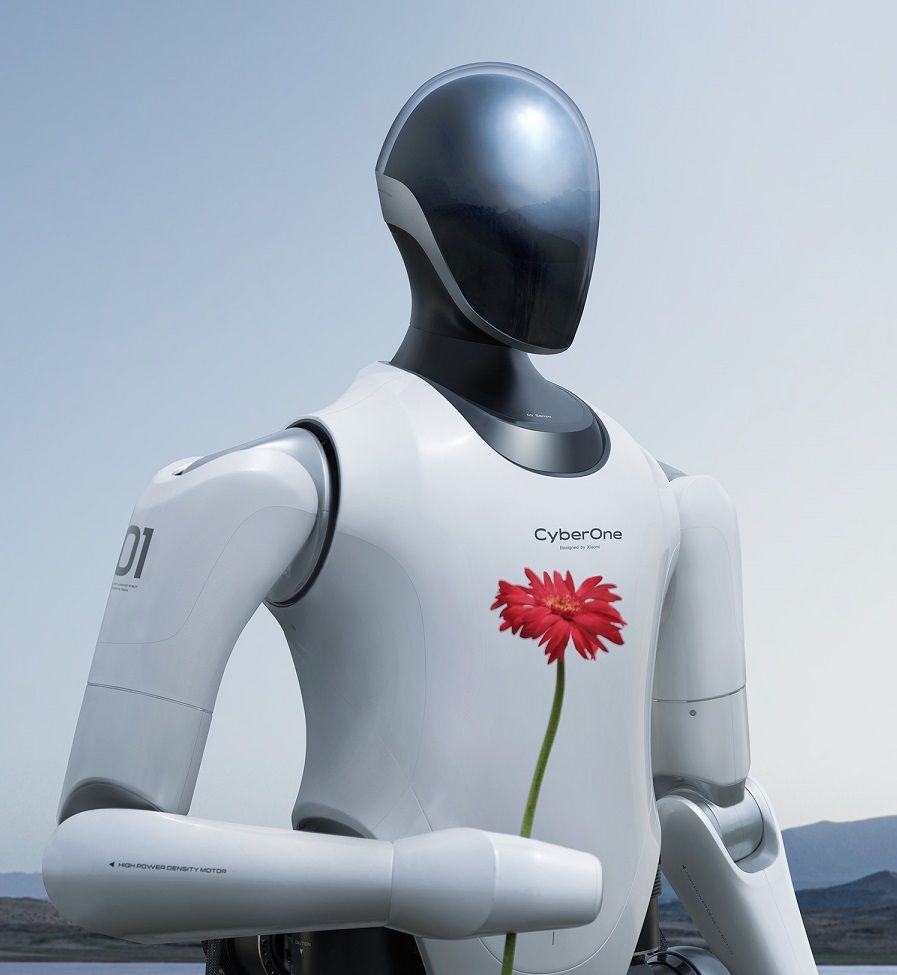 Along with the Xiaomi Mix Fold 2, Xiaomi debuted CyberOne, their first humanoid robot.
At a live presentation on Thursday, Xiaomi announced the Xiaomi Mix Fold 2 and CyberOne, the company's first humanoid robot. The robot can listen in on human conversations and can identify people and their emotions. The CyberOne is 177 cm tall, 52 kg heavy, and has a 168 cm arm span. It is asserted to be able to see three-dimensional space. The CyberOne has the ability to recognise 45 different categories of human emotion in addition to 85 other types of environmental sounds. The CyberDog quadruped robot from Xiaomi was unveiled in February during the Mobile World Congress (MWC) 2022.
Announcement of CyberOne in ceremony.
Xiaomi announced the CyberOne on Thursday during the launch ceremony for the Xiaomi Mix Fold 2. On stage, the humanoid robot demonstrated certain actions while giving a flower to the company's CEO Lei Jun.
Large investment in the features of the robot.
"Xiaomi Robotics Lab created all of the AI and mechanical capabilities of CyberOne on its own. We have made significant investments in R&D across a range of fields, including the development of software, hardware, and algorithms "Lei Jun released a statement.
With arms, legs, and the ability to move as a biped, CyberOne is believed to have a peak torque of up to 300Nm. It can observe the world in three dimensions and contains an OLED module for displaying facial expressions. The CyberOne, created by Xiaomi's Robotics Lab, has a matte white colour finish and dark joints. It can move at a speed of 3.6 km/h, according to Lei Jun. Additionally, the robot is 177 cm tall, weighs 52 kg, and has an arm span of 168 cm.
The new gadget from Xiaomi includes a Mi Sense technology together with an AI algorithm that enables CyberOne to recognise people and their motions. Additionally, 85 different ambient sound kinds are believed to be recognised, as well as 45 different categories of human emotion. Before its official release, the CyberOne may receive an upgrade with new functionality. "While CyberOne continues to introduce new features, Xiaomi is only starting out in the space. Future human life will undoubtedly include intelligent robots, in our opinion ""Lei Jun" remarked.
CyberOne is Xiaomi's second robotics-related product.
Following the unveiling of the CyberDog earlier this year, Xiaomi's Robotics Lab has now unveiled the CyberOne. With 11 highly accurate sensors, including touch sensors, cameras, and GPS modules, it can sense and interact with its surroundings thanks to Nvidia's Jetson Xavier AI platform. The Xiaomi CyberDog can respond to voice instructions and has a 128GB SSD storage capacity. It may be operated using the included remote control or a connected smartphone app, and it responds to wake-up orders.