Iphone X
Battle Between Apple iPhone X and Google Pixel 3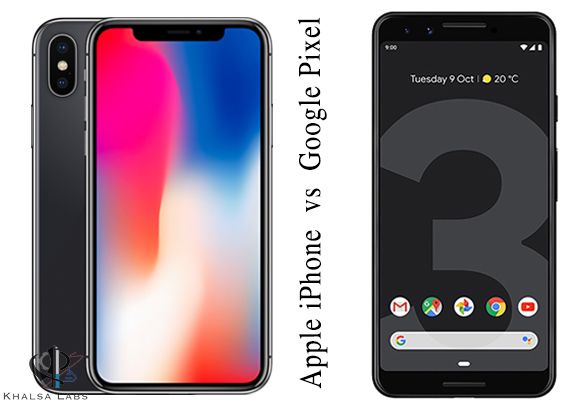 In this closed look on a battle between Apple iPhone X and Google Pixel 3, we will compare both of the smartphones side by side.
Both of the above phones are an excellent and exquisite choices not forgetting that both possess outstanding properties and features. Nevertheless, they both are quite different in multiple ways as well as similar. In this battlefield, I am going to discuss about both of them. Stay till end, you don't wanna miss this.
The iPhone X is an Apple brand while the Pixel 3 is a Google brand. The models of the phones correspond their names.
Audio
Both iPhone X and Pixel 3 possesses a loud speaker, but no FM radios. The iPhone X`s audio jack is a lightning type while the Pixel 3`s is an USB type-C.
Battery
The phones have high battery power but they vary in terms of mAH.iPhone X has a battery possessing power of 2716 mAh while Pixel 3`s has that of 2915 mAh.They both sustain long battery lives and charges very quickly especially iPhone X which charges above 50% in the first 30 minutes.
Fingerprint Sensor
The Pixel 3 has a fingerprint sensor but the iPhone X has no fingerprint sensor. They also have different operating systems. The iPhone X has an iOS v11.0.1 system while the Pixel 3 has an Android v9.0 (Pie).
Internal Storage
They both possess a very exceptional internal storage of 64GB each but the memory is not expandable.Thier RAMs however, are a little different .The IPhone X has a RAM of 3 GB while Pixel 3 has a RAM of 4GB.
Processors
The Processors of both phones are almost similar but there are some slight differences. The iPhone has a 64 bit Hexa Core (2.39 GHz, Dual core, Monsoon + 1.42 GHz, Quad core, Mistral) processor with an M11 Coprocessor while Google Pixel has a 64 bit Octa core (2.5 GHz, Quad core, Kryo 385 + 1.6 GHz, Quad core, Kryo 385) with no Coprocessor.
Dimensions
The phones sizes, shapes and weight also vary but slightly. The Google Pixel 3 has a width of 68.2 mm, thickness of 7.9 mm, height of 145.6 mm and weight of 148 grams. Its competitor iPhone X has a width of 70.9 mm, thickness of7.7 mm, height of143.6 mm, and weight of 148 grams.
Chipsets
The Chipsets each have in-built each of the is different. Google Pixel 3 have a Qualcomm Snapdragon 845 chipset while iPhone X has an Apple A11 Bionic chipset. The graphics are not similar as well. Apple iPhone X has Apple GPU (three-core graphics) graphics while the Google Pixel 3 has Adreno 630 graphics.
In addition, both the gadgets are excellent, each on its own way. They therefore possess special features which am about to outline. They are both waterproof. They can possible be Water resistant up to 30 minutes in a depth of 1 meter. Their graphics and camera power is beyond comparison. Apple iPhone X has 5.8″ (14.73 cm) display and 12 MP + 12 MP camera power. The Google Pixel 3 has 5.5″ (13.97 cm) display and 12.2 MP Camera power. They both have a pixel density of above 435 ppi which is very commendable.
Price
In terms of price, they are both quite expensive and it's worth your every coin considering the features I have talked about above. However, in terms of figures, Apple iPhone X is more expensive than Google Pixel 3.`